MPU Campus Users
A student/faculty/staff ID card is required to enter.
If you do not have yours, please contact to the General Affairs division.

MPU Visiting Users
Only a person who corresponds to one of the following statuses can use the library.
Be sure to bring the required documents and to check in at the guardhouse upon entering.
(a)Graduates of Meiji Pharmaceutical University
(b)Students of other universities
(c)Those who wish to use library materials for education and research
(d)Neighbors of the university who are over 18 and live or work in Kiyose, Higashi-murayama, Tokorozawa, Higashi-kurume or Niiza City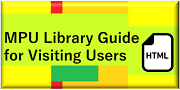 【What the Library Requests of Its Users】
1) Do not eat and drink: We only allow drinks with a lid.
2) Do not charge electrical devices: We permit only current PCs. (Do not charge your private property.)
3) Do not chat: Your voice will disturb other users.
4) Do not take pictures of library resources: Use photocopiers.
5) Do not make phone calls: Set your mobile phone to Do Not Disturb.
6) Do not save a seat in advance. : Other users need the seat.